HERITAGE BERKSHIRE PORK
RAISED ON SILVOPASTURE
NON-GMO FEED MIXED ON SITE
Read less
Description

Our classic pork bacon -- cured for 10 days and slow smoked over cherry wood, it's perfect morning, noon, or night. We slice a standard breakfast thickness but if you want it as a slab, thick cut, or shaved thin just drop us a line.

Sold by the half pound (8 slices)
No added preservatives
No antibiotics or hormones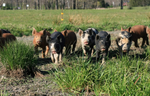 PORK
Meili Farm /// Amenia, NY
Owned and operated by Craig and Sophie Meili, emcompasses over 100 acres of pasture and woods in upstate NY where they raise Tamworth-Berkshire hogs (as well as beef and laying hens!). All hogs are bred, born and raised on the farm. The hogs spend their lives on pastured (and in the woods, of course!) and are hand-fed a mix of natural grains, vegetables, hay, and goat milk whey from a local cheese maker. They have as much access as they want to root, wallow, run and rest in the shade -- just the way pigs are supposed to live! Hogs never need or receive any antibiotics, hormones or other medical treatment.
Learn more at their website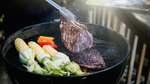 Mary M. says:
The quality of your product has been so high that the vegetarians have fallen into carnivorous chaos.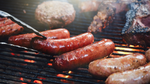 Pensri H. says:
I love the selection you placed into my box this month. In fact, I haven't spontaneously and repeatedly shouted out in glee and excitement in a while.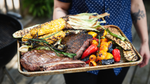 Gregory C. says:
The variety. I love to cook and I love to explore so to know you're listening/thinking about me as an individual customer makes me feel like some badass chef or something and you're my trusted purveyors. So fun.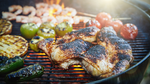 Anjelica P. says:
Holy sausage. We just tried the sweet sausage you had given us and holy moly I think we need an endless supply of that in my freezer they are incredible!!!!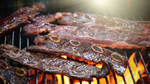 Victoria J. says:
No contact, super reliable, and confirmation via text letting you know the status of your order.  Plus we get to support local farms and producers, and a great women-owned small business!!  Win-Win-Win!