CERTIFIED GRASSFED
ANIMAL WELFARE APPROVED

Read more
CERTIFIED GRASSFED
ANIMAL WELFARE APPROVED
REGENERATIVE + SUSTAINABLE FARMING PRACTICES
Read less
Description

Feel like a steak but don't want to commit to a whole omakase box? Take a trust fall, and let us pick out the perfect cut for dinner this week!

Roughly 8 ounce cut (a heavy portion for one, maybe enough for two smaller portions)
Only available with the purchase of a subscription box
BEEF
Autumn's Harvest /// Romulus, NY
Tim and Sarah Haws have owned and operated Autumn's Harvest since 2001, and added a calf and cattle beef program in 2003. They are who we wish all farmers were and should strive to be. They took and eroded, bald farm and through enormous devotion to regenerative agriculture, rotational grazing, and multi-species farming have transformed their 200 acres into a lush, beautiful farm that is Animal Welfare Approved and GAP certified.
Tim and Sarah raise Murray Grey cattle - animals proven to thrive on grass and open pasture. The intensive rotational grazing practices at Autumn's Harvest ensure the cattle have access to grass, exercise, and vast open space. This healthy lifestyle erases the need to hormones and antibiotics. The cows eat grass their whole lives and forage on things like legumes and herbs. Meat from these well loved animals has less total fat, less saturated fat and cholesterol, more vitamin A & E and two very important health-promoting fats called omega-3 fatty acids and conjugated linoleum acid.
Learn more at their website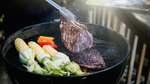 Mary M. says:
The quality of your product has been so high that the vegetarians have fallen into carnivorous chaos.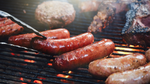 Pensri H. says:
I love the selection you placed into my box this month. In fact, I haven't spontaneously and repeatedly shouted out in glee and excitement in a while.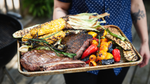 Gregory C. says:
The variety. I love to cook and I love to explore so to know you're listening/thinking about me as an individual customer makes me feel like some badass chef or something and you're my trusted purveyors. So fun.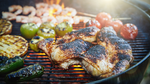 Anjelica P. says:
Holy sausage. We just tried the sweet sausage you had given us and holy moly I think we need an endless supply of that in my freezer they are incredible!!!!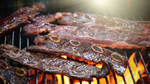 Victoria J. says:
No contact, super reliable, and confirmation via text letting you know the status of your order.  Plus we get to support local farms and producers, and a great women-owned small business!!  Win-Win-Win!