CERTIFIED GRASSFED
ANIMAL WELFARE APPROVED

Read more
CERTIFIED GRASSFED
ANIMAL WELFARE APPROVED
REGENERATIVE + SUSTAINABLE FARMING PRACTICES
Read less
HERITAGE BERKSHIRE PORK
RAISED ON SILVOPASTURE
NON-GMO FEED MIXED ON SITE
Read less
Description

This

box is exactly what it says - essential. It's a great base box to build upon. Get this every week to cover your bases and then mix and match with fish, deli, or butcher's cut add-ons

.

Each Essential Box includes one pound of 85/15 ground beef, one half pound of ground 90/10 pork or lamb (specify below!), and two kinds of sausage (1/2-pound of each variety).

If you'd like a specific type of sausage, please make a note in your profile. 
BEEF
Autumn's Harvest /// Romulus, NY
Tim and Sarah Haws have owned and operated Autumn's Harvest since 2001, and added a calf and cattle beef program in 2003. They are who we wish all farmers were and should strive to be. They took and eroded, bald farm and through enormous devotion to regenerative agriculture, rotational grazing, and multi-species farming have transformed their 200 acres into a lush, beautiful farm that is Animal Welfare Approved and GAP certified.
Tim and Sarah raise Murray Grey cattle - animals proven to thrive on grass and open pasture. The intensive rotational grazing practices at Autumn's Harvest ensure the cattle have access to grass, exercise, and vast open space. This healthy lifestyle erases the need to hormones and antibiotics. The cows eat grass their whole lives and forage on things like legumes and herbs. Meat from these well loved animals has less total fat, less saturated fat and cholesterol, more vitamin A & E and two very important health-promoting fats called omega-3 fatty acids and conjugated linoleum acid.
Learn more at their website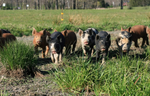 PORK
Meili Farm /// Amenia, NY
Owned and operated by Craig and Sophie Meili, emcompasses over 100 acres of pasture and woods in upstate NY where they raise Tamworth-Berkshire hogs (as well as beef and laying hens!). All hogs are bred, born and raised on the farm. The hogs spend their lives on pastured (and in the woods, of course!) and are hand-fed a mix of natural grains, vegetables, hay, and goat milk whey from a local cheese maker. They have as much access as they want to root, wallow, run and rest in the shade -- just the way pigs are supposed to live! Hogs never need or receive any antibiotics, hormones or other medical treatment.
Learn more at their website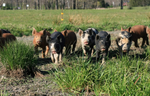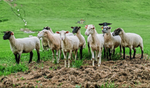 LAMB
Elysian Fields /// Ruff Creek, PA
Farmer Keith Martin and acclaimed chef Thomas Keller, lead Elysian Fields/Pure Bred Lamb with one guiding principal: you are what you eat. Elysian Fields raises our favorite lamb in America — Dorset ewes crossed with Suffolk rams. Keith doesn't just look at one aspect of the animal's life — rather he focuses on the breed, the feed, the water quality, the overall sustainability practices of the farm and, most importantly, animal compassion.
The pair even have a patented system (Safe Alternative) that tracks feed, growth, and movement of each animal so that we, as consumers, are more connected to the food we eat and the farmers that grow them.
Learn more at their website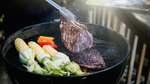 Mary M. says:
The quality of your product has been so high that the vegetarians have fallen into carnivorous chaos.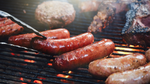 Pensri H. says:
I love the selection you placed into my box this month. In fact, I haven't spontaneously and repeatedly shouted out in glee and excitement in a while.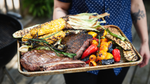 Gregory C. says:
The variety. I love to cook and I love to explore so to know you're listening/thinking about me as an individual customer makes me feel like some badass chef or something and you're my trusted purveyors. So fun.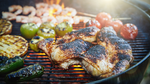 Anjelica P. says:
Holy sausage. We just tried the sweet sausage you had given us and holy moly I think we need an endless supply of that in my freezer they are incredible!!!!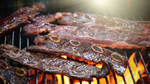 Victoria J. says:
No contact, super reliable, and confirmation via text letting you know the status of your order.  Plus we get to support local farms and producers, and a great women-owned small business!!  Win-Win-Win!